Delete Saved Passwords in Google Chrome
How to Manage Saved Passwords in Google Chrome
Google Chrome comes with a built in password manager for your convenience. The password manager can automatically fill out login forms if you choose to save your information in it, so you don't have to. When you log in to an internet account such as your Facebook, Google Chrome asks you if you want to save your password. If you do, how do you delete discarded entries or confidential account information which you don't want anyone to steal? Do you want to be able to log in to an online account yourself, without Google Chrome automatically filling the username and password? If you do, follow these instructions to find out how.
Steps
Open Google Chrome.You can either double-click on the Google Chrome icon on your desktop or taskbar, or right-click on the icon and click on "New Window" among the options on the menu that pops up.

Look for the three-line icon to go to Settings.Once a new browser is up, look towards the upper-right corner of the screen where you will see an icon sporting three horizontal lines. Click on the icon to make a drop-down menu appear, and select "Settings" from among the options on the menu.

Click on "Show advanced settings."Scroll down to the bottom of the Settings page, and expand the page to show an advanced menu of options by clicking on the blue-lettered "Show advanced settings" tab.

Look for "Passwords and Forms."Once the page expands, scroll down until you see the submenu "Passwords and Forms," under which are two tick boxes. One is for "Enable Autofill to fill out web forms in a single click," and the second one is for "Offer to save your web passwords."

Decide if you want your web passwords saved.

The second option under "Passwords and Forms" is an offer to save your passwords for other websites. If you want this option enabled, click on the tick box to check it. If it is already checked and you want it deactivated, just uncheck the box.

Once you check the box, click on the blue link that says "Manage passwords." A new window will pop up where you can see which websites you have "Saved" passwords to, and which websites have passwords that are "Never saved."
When a website is listed in the "Saved" list, it means that if you ever have trouble remembering your password, you can just click on the website on this list, and make your password visible by clicking on the "Show" button.
Add or delete websites from either the "Saved" or "Never saved" boxes as you see fit.
Remember to click on the "Done" button at the bottom of the pop-up window to save your changes.

Click "Manage saved passwords".

In this popup, you can manage your passwords.Hover over a saved password with your mouse to reveal an X button, which will delete the password if clicked. Additionally, you can find forgotten passwords by clicking on the password that you forgot and clicking the "Show" button.
Community Q&A
Question

How do I get my computer to save passwords?

wikiHow Contributor

Community Answer

When you first enter a password, it asks if you want the computer to remember the password. If you click "allow," it will save your password(s).

Question

How can I save two passwords for the same website?

wikiHow Contributor

Community Answer

Each account should only have one password. You can save each password when you are signed into its specific account.

Question

I deleted the wrong password, tried to sign into the site with the wrong one, and Google saved it. How do I modify the incorrect saved password?

wikiHow Contributor

Community Answer

Go to settings and click "advanced." You should see "saved passwords," and you can delete the wrong one.

Question

How do I get a new password if I forget mine?

wikiHow Contributor

Community Answer

You request help from the website. They should send you an e-mail regarding your password and help you recover it. If you want to overwrite an old password, just type in a new password on the website you want to change your password on. Chrome should notice and ask you whether you should overwrite it or not.

Question

I originally told Chrome to never save passwords, but now I want to change that. How do I change those settings?

wikiHow Contributor

Community Answer

Open your Chrome browser and then go to Settings, Advanced, and Passwords and Forms. Here is where you can activate the option to save your passwords.

Question

What about passwords used outside of Google Chrome?

wikiHow Contributor

Community Answer

Go to your history then click on "saved passwords". Click this and you can delete any passwords or usernames that have been saved.

Question

How do I change a saved password?

wikiHow Contributor

Community Answer

Simply go to your Chrome settings, and under saved passwords, just delete the password that was previously saved. The next time you login to the site, it will prompt for you to save the password.

Question

At first I told Chrome not to save a password, but that turned out to be inconvenient. How do I get Chrome to save my information after I already told it not to?

Just sign in again. Then, at the address bar, press the small hammer to the right.
Unanswered Questions
How do I change my email address on my autofill contact?

Where do all my saved passwords go in Google Chrome? They are all missing!

How do I eliminate the drop down fill in suggestions on my bank account?

Is there any way to sync my laptop to my phone and iPad?

Is there a way to view all of my passwords at once on a screen?
Ask a Question
200 characters left
Include your email address to get a message when this question is answered.
Alternately, you could just put chrome://settings/passwords into the address bar for a shortcut to the password management page.
When you log into a website, a bar like this should pop up at the top of the screen. If you click "Never for this site", the bar will never again show up when logging into that site. If you click "Save password" by accident, you can always delete the saved password by following the above steps.

You can also the Personal Stuff page to manage whether Google Chrome saves passwords in the first place. If you'd rather not have your information stored in this way, simply click on the radio button next to "Never save passwords". This way, Google Chrome should never offer to save your passwords from then on, unless you go back to the page and change the settings again.
Video: How To Delete Saved Passwords in Google Chrome
How to Manage Saved Passwords in Google Chrome images
2019 year - How to Manage Saved Passwords in Google Chrome pictures
How to Manage Saved Passwords in Google Chrome advise photo
How to Manage Saved Passwords in Google Chrome pics
How to Manage Saved Passwords in Google Chrome new photo
photo How to Manage Saved Passwords in Google Chrome
Watch How to Manage Saved Passwords in Google Chrome video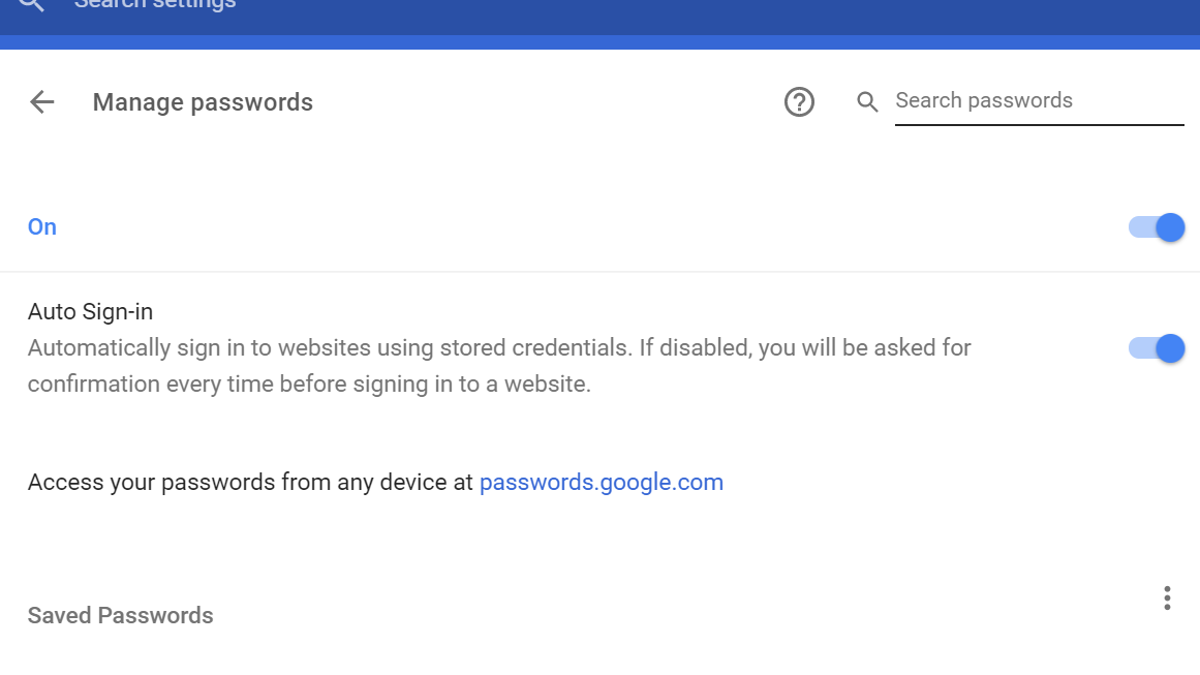 Forum on this topic: How to Manage Saved Passwords in Google , how-to-manage-saved-passwords-in-google/ , how-to-manage-saved-passwords-in-google/
Related News
Keep reading: 12 ways to get your fiber fix
Bright Summer Nail Polish
How to Dye Your Own Hair
How to Make an Avocado Dessert
How to Remove Your Car From Long Term Storage
OMEGA Unveils A New Limited Edition 007 Timepiece
14 Thyroid Symptoms In Women That Could Point To A Serious Problem
50 Fashion Tips Every Girl Should Know
Best hair straightening shampoos in the market
How to Live in Harmony in a Blended Family (as a Step Parent)
Sugary Drinks and Decreased Fat Metabolism: A Possible Link
Griseofulvin Reviews
Date: 30.11.2018, 01:27 / Views: 43554
---