How to test a PTC relay (fridge compressor starting relay)
How to Test a Refrigerator PTC Relay
A PTC (Positive Temperature Coefficient) relay is a starting device for fridge compressors. It is responsible for powering the start winding for a brief moment to help start up the fridge compressor motor. If your fridge cannot start there is a high probability that the PTC relay is defective. This article presents how to test them to determine whether they need replacing. Luckily, these common fridge parts are relatively inexpensive and easy to replace.
Steps
Expose the back of the fridge to get access to the motor.Make sure the appliance is unplugged.

Find the fridge compressor and remove the plastic case that houses the starting circuitry.Either memorize the wiring or take a few pictures just to be sure you know how to put it all back together when you're done. There's usually a diagram somewhere as well - make sure you can follow it and identify parts.

Find the PTC relay.It is plugged onto the 3 prong connector on the side of the fridge compressor. Turn it over to expose its bottom side and locate the connectors - most have 3 sockets but some only two.

Shake the PTC relay.If you can hear something rattling inside, it suggests that it might be broken.

Inspect the part visually and smell it.Burnt out marks or smell are another indication of a broken part. Shaking and inspecting visually are not good enough methods - proceed to the next step to be sure.

Use a multimeter to measure resistance across all the pairs of the connectors on the underside of the PTC relay.Only one pair should give you a reading - it should be between 10 - 100 ohms. If you can't get any reading at all make sure you set the multimeter on the lowest resistance or Continuity range and repeat the measurements. If you still get no indication of continuity, the PTC relay is broken.

If you determined that it is broken, note the part number and order a replacement.
Community Q&A
Question

My new PTC relay is not not running the compressor. What could be wrong?

wikiHow Contributor

Community Answer

Check supply voltage. If supply voltage is in between 160- 170 Volts, then there should be the problem of low voltage. Please connect starting capacitor of 5mfd, 400volt parallel to ptc relay.

Question

How do I start a refrigerator without a relay?

wikiHow Contributor

Community Answer

You cannot. The relay is there to let the compressor windings start on one winding and then almost immediately switch to the second winding. Most high load or heavy load applications have this start then run mode.

Question

Why do I keep getting defective PTC relay on my refrigerator? I have had to change it several times in the past two years.

wikiHow Contributor

Community Answer

Either you have a bad connection somewhere in your wiring, including your plug for the refrigerator, or your compressor is internally dragging, causing a high amp load. In my experience, having a "newer" refrigerator does not necessarily mean your are immune to this. The fixes are new compressor or new fridge.

Question

If relay goes faulty, will the compressor will be hot or not?

wikiHow Contributor

Community Answer

It can be. If the windings don't burn up, there will be current causing heat to be in the wiring. Since there is a lot of wire in windings, the compressor can be extremely hot. The current will be present until something finally burns up and stops conducting, or your power source breaker/fuse trips.

Question

Can a compressor work without gas?

wikiHow Contributor

Community Answer

No, the compressor contains all the gasses that make the air con function.

Question

On the PTC relay, all of the pairs at any combination read 10 ohms. Is this correct?

wikiHow Contributor

Community Answer

It seems you are reading the PTC or thermistor, not the contacts. One should read zero ohms, which is a dead short. Because you aren't getting a dead short on any test, you either have a bad relay or you aren't testing properly. The thermistor is electrically between the contacts of the relay, in parallel with the relay contacts.
Unanswered Questions
I have a Frigidaire side by side refrigerator, both side are warm, PTC relay I am getting 5.5 ohm should I change

Why the motor trip after 30 seconds?

What could be causing the compressor in my refrigerator to fail if I've already replaced the starter?

I replaced my relay using a starter kit. The fans and lights work, but the compress will not. What could be the issue?
Ask a Question
200 characters left
Include your email address to get a message when this question is answered.
Video: how to test ptc relay. how to work ptc relay. how to connect ptc relay
How to Test a Refrigerator PTC Relay images
2019 year - How to Test a Refrigerator PTC Relay pictures
How to Test a Refrigerator PTC Relay forecast photo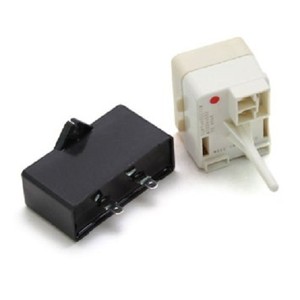 How to Test a Refrigerator PTC Relay picture
How to Test a Refrigerator PTC Relay new images
pictures How to Test a Refrigerator PTC Relay
Watch How to Test a Refrigerator PTC Relay video
Discussion on this topic: How to Test a Refrigerator PTC Relay, how-to-test-a-refrigerator-ptc-relay/ , how-to-test-a-refrigerator-ptc-relay/
Related News
How to Make Ringtones for the iPhone
These Women Need You
How Model Madeline Stuart Is Changing The Fashion World, One Campaign At A Time
Enjoy Real Sugar in Small, Thoughtful Doses
The Best Facial Oils
3 Ways to Take Honey
Griddled Sirloin Steak with Garlic and Parsley Mushrooms Recipe
ASOS Crafted In Clothing
How to Make Sugar Cookies Without Baking Soda
Stomach Troubles Not Linked to Autism, Study Finds
Date: 06.12.2018, 05:50 / Views: 71251
---