Katie Holmes & Michelle Williams Discover The 'Dawson Crying' Meme For The First Time | PeopleTV
Katie Holmes Named the First-Ever Celebrity Face of Bobbi Brown
Bobbi Brown Eye Palette (Limited Edition)
So it starts with the eyes, like many of the top sophisticated and luxurious makeup collections do. The peculiarity of this alternative is the curious concentration around pink shades, from nude to glittery bronze, the royal chic meets with the spring inspiration right here.
• Nude
• Crystal
• Bronze
Bobbi Brown Brightening Finishing Powder (Limited Edition)
Discover the newest creative suggestion ofBobbi Brownfor having the alluring bronze glow opting for this impressive and skillful powder.
• #04 Bronze Glow
Bobbi Brown Sheer Lip Color (Limited Edition)
Going on with your perfect makeup suggestions, here you have the variety of stunning lip shades, from sweet to glittery options.
• Pink Flush – cherry
• Pink Rose – rose
• Pink Gold – gold champagne
Bobbi Brown Nail Polish – 11 ml (Limited Edition)
Finally, it all gets down to nails, presenting these suitable shades for nails, too. They are ideal for matching the above-mentioned products' effect, as well as for using them separately and for any occasion.
• Pale
• Ballet Pink Glitter Nail Polish
• Bronzer Shimmer Nail Polish
The impressive Bobbi Brown Nude Glow spring 2014 makeup collection will be available in Japan from January 10, and for the US, it will be presented at Nordstrom, Macys and online on bobbibrown.com in January of the coming year again. So start the new year with just as new and fresh spring inspired looks!
Photos courtesy of Bobbi Brown
Glitter, glitter everywhere! The shiny and breathtakingBobbi Brown Old Hollywood holiday 2013 makeup collectionis already here to make your Christmas even more magical. What is offered with this collection? Well, it's first of all the amazing retro touch, the components mean to create! Secondly, it's the image of the elegant and classy lady, portrayed byKatie Holmes, that appears as a result of the professionally designed tools included in this awe-inspiring collection. Finally, it's the combination of these two drives that create the fabulous retro chic effect of your makeup in the end.

Talking about the pieces available in the Bobbi Brown Old Hollywood holiday 2013 makeup collection, we can enumerate them as:
Bobbi Brown Old Hollywood Eye Palette – (€85.00) (Limited Edition)
The amazing shades of this palette are introduced in the following attention-grabbing variety:
• Ivory
• Beige
• Gold Sparkle
• Opal Sparkle
• Fog
• Golden Metallic Pink
• Chocolate Bronze Sparkle
• Gold Metallic Candelight
• Eclipse
Bobbi Brown Old Hollywood Ink Liner – (€25.00)
• Black
Bobbi Brown Old Hollywood Long-Wear Cream Shadow Stick – (€31.00)
In a search for luxurious colors? Watch these:
• Bronze (Limited Edition)
• Tuxedo Black (New)
• 24 Karat (Limited Edition)
Bobbi Brown Old Hollywood Lip Color – (€25.00)
This is called here-comes-the-retro shade! One of the main clues leading to the retro ideology of the collection!
• Old Hollywood (Limited Edition)
Bobbi Brown Old Hollywood High Shimmer Lip gloss – (€24.00) (Limited Edition)
The glamorous gleam has never been so close to your lips before! They are just more than enchanting.
• Candlelight
• Rose
• Siren Red
• Pure Gold
Bobbi Brown Old Hollywood Nail Polish – (€19.00) (Limited Edition)
In the end, it all comes to the nails again! Take a looks at these chic-inspired and amazing shades.
• Tuxedo Black
• Chrome
• Siren Red
• Solid Gold
You are already thinking of including the Bobbi Brown Old Hollywood holiday 2013 makeup collection in your holiday wishlist? So right you are! The only thing left for you to do is to be armed with patience until November, when the collection will be available for you to have it in the most favorite place of yours.
Photos courtesy of Bobbi Brown
You can be surely positive thatKatie Holmesis not just a good actress but also a very creative designer. Her cooperation with Jeanne Yang seemed promising and bright even 4 years ago when the talented designer duo started working together. The best proof of their successful work is the recentHolmes & Yang spring/summer 2014 collection, unveiled atNew York Fashion Week. The delicate and feminine looks are hot and classy at the same time. Extravagant materials and nicely cut shapes make the looks sassy and cheeky.

The dresses in the Holmes & Yang spring/summer 2014 collection have a touch of grunge style, though they are interestingly modern and stylish. The new character of the collection is a busy, vivacious and independent woman, who needs a lot of different looks to surprise her colleagues and just to make the strangers sigh as she walks by. You can make your choice from this smart 14-piece collection, and make your picks an important part for your everyday wardrobe to wear the dresses to meetings, interviews or even wedding parties.
The main colors of the Holmes & Yang spring/summer 2014 collection are black and white combined with animal prints, which seem to be still hot for the upcoming spring. Silk simple dresses in this very collection can give you a surprisingly high-class look, and the striking orange will make you noticeable and unforgettable. Lightly beaded necklines or the classical V-necks keep on being artistic and fascinating for the season, and give the models a very gentle and elegant look.

You can also find several gowns in the collection, which can be perfectly suitable for an extravagant ceremony or even for red carpet events. Other than that, you can find the cutest shorts of the season that are excellent to wear during daytime or at hot nights.
Another essential element in the Holmes & Yang spring/summer 2014 collection is the leather, which makes the looks more luxurious and timeless. It comes in fairly little portions, being used only for the trimming of the V-necks, this way never making things look harsh or edgy. Overall, the collection is smart and polished enough to appeal to fashionisers of different tastes and preferences.
Photos courtesy of WWD
Ever since stunningKatie Holmesjoined hands with Jeanne Yang to launch a new brand, we have all been more than sure to always see stunning creations, as she always knows how to look gorgeous and how to create unique looks. TheHomes & Yangbrand was then officially presented for the first time during the last season'sNew York Fashion Week, where Katie created a pleasant casual atmosphere by offering tea and coffee to her guests and inviting them to take off their shoes, if they wanted. As for the new season, the young designer duo unveiled theHolmes & Yang fall/winter 2013-2014 collectionduring New York Fashion Week in a more modest manner, reasoning that it's February and it's more pleasant to cozy up in warm clothing pieces and spend more time with editors.
Talking about the newestHolmes & Yang fall/winter 2013-2014 collection, Jeanne Yang said: "Our clothing is quiet. We go back and forth — make a splash, make it known that we are here, but we also go back and say, 'Do we have the time to talk to [the editors]?"
The 15-lookHolmes & Yang fall/winter 2013-2014 collectiondraws inspiration from the Forties, more precisely from Katherine Hepburn, and brings timeless classics that always manages to attract a generous amount of attention. Simplicity, elegance, femininity and a nice retro allure are the keywords for these evening gowns, casual dresses and smart suits. Black, navy blue, red, white and camel are the shades for the newHolmes & Yang clothingpieces. while most of the looks are monochromatic and minimalist, there is wool bustier coming with matching skinny trousers that feature checkered patterns.
From ground-skimming evening gowns and elegant dresses to chambray shirtdresses, pants, coats and tops, the newHolmes & Yang fall/winter 2013-2014 collectionhas every type of item for any occasion and style. And although all the pieces radiate a high dose of retro allure and seem to target middle-aged women, Yang hurried up to mention that it still is a young brand. "We know that we are a younger line, but we come from a heritage of parents that are self-made," she said. "They taught us not to be afraid of customizing something and being confident. 'Go ahead and make this dress your own.'"
Photos courtesy of WWD
Katie Holmesis not only a talented actress, but a gorgeous woman, who is especially known for her natural beauty. She was included in the annual 100 Most Beautiful list of People, taking the respected 6th position, and has managed to appear in various advertising campaigns of famous brands. Now, Katie Holmes becomes the first-ever celebrity face ofBobbi Browncosmetics and will feature in the brand's spring 2013 print ads, on light boxes and editorial features. Moreover, Bobbi will be the makeup artist at the spring/summer 2013 Holmes & Yang Fashion Show, Katie's fashion line that she has launched with stylist Jeanne Yang.

"Katie Holmes epitomizes the modern 'Bobbi woman'… I think of her as the modern day Ali McGraw, who I have always admired," Brown says in a statement, "Katie is a classic natural beauty, entrepreneur, and mother. When I met her, I thought she was a natural fit for my brand, and felt an instant connection with her because we have so much in common."
Katie in her turn states: "Bobbi is exceptional and Bobbi Brown Cosmetics is a company that we, as women, all turn to because it is makeup that is very accessible and makes you feel pretty. Sometimes it is just a lipstick or a blush that makes you feel like you can do what you need to do. Makeup is powerful and I am thrilled to be a part of this brand."

Speaking to TODAY'S Savannah Guthrie, Brown said that, "I didn't hire a celebrity. I hired a woman who I think is really cool, who is down to earth, who sparkles when she enters a room, and she photographs really well. She's beautiful and she's relatable."
"This is a very exciting time for Bobbi Brown Cosmetics, and we are thrilled to be embarking on this new partnership with Katie, whose influence spans the globe," says Estee Lauder Specialty Brands President Maureen Case.

Video: 14 Celebrities Who Are UNRECOGNIZABLE Without Makeup!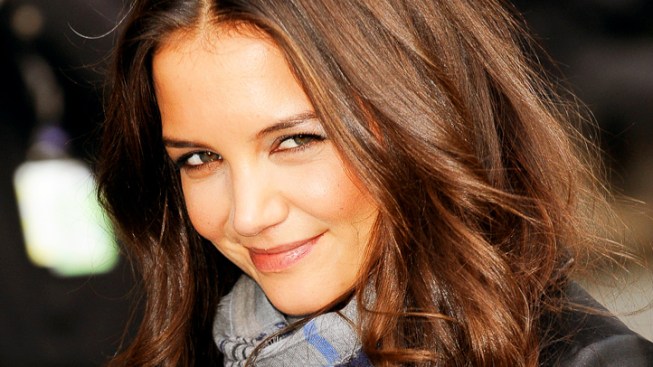 Katie Holmes Named the First-Ever Celebrity Face of Bobbi Brown images
2019 year - Katie Holmes Named the First-Ever Celebrity Face of Bobbi Brown pictures
Katie Holmes Named the First-Ever Celebrity Face of Bobbi Brown forecast photo
Katie Holmes Named the First-Ever Celebrity Face of Bobbi Brown photo
Katie Holmes Named the First-Ever Celebrity Face of Bobbi Brown new foto
images Katie Holmes Named the First-Ever Celebrity Face of Bobbi Brown
Watch Katie Holmes Named the First-Ever Celebrity Face of Bobbi Brown video
Forum on this topic: Katie Holmes Named the First-Ever Celebrity Face , katie-holmes-named-the-first-ever-celebrity-face/ , katie-holmes-named-the-first-ever-celebrity-face/
Related News
How to Get Lots of Stuff on Animal Jam
How to Add Color to Beeswax
How Long Will My New Baby Wear Newborn Baby Clothes
How to Prepare to Meet With a Financial Planner
Sleep Apnea
I Hated Winter Running And Walking. Then I Got These Mittens
How to Plan Cooking for People All Weekend
Your IBS Sick Day Diet
Ditch The Chips: 5 Clean and Savory Snacks
Should Your Workout Crush You
Worst Airbnb Deals At The Rio Olympics
Fashion's royal night out
Victoria Justice Talks Style, Selfies, and Why She'll Leave Online Dating to Her TVCharacter
6 Brilliant Barstools
How to Make a Beanbag Tripod
Date: 15.12.2018, 01:11 / Views: 93132
---