Syria: Aleppo residents wear St. George's ribbons in honour of Russia's V-Day
On which side are St. George ribbons - right or left
St. George ribbon is not a stylish, fashionable accessory that can be worn as it pleases. This attribute is a sign of memory and grief, respect for veterans, therefore it is necessary to handle the tape with care and use it only for its intended purpose.
St. George's ribbon is worn on the chest, with only the left. Why precisely left? On the left is the heart, and wearing the ribbon on this side of the chest is a sign of the memory of the feats of Russian soldiers. Therefore, this option is the most preferred wearing.
As for the options, how to pin the St. George ribbon to the chest, there are quite a lot of them. Experimenting, you can choose the most suitable option for themselves.
St. George Ribbon
The easiest way to wear a ribbon is to sew / attach it to clothes in the form of an eyelet. To do this, you need to take a ribbon length of 10-15 centimeters by the ends on both sides and fold the tips in the form of the letter "x".After that, the product can be attached with a needle / pin or fastened to the garment with a thread (one or two stitches). The puncture must be in the place where the ends of the tape clasp, otherwise the structure will simply disintegrate.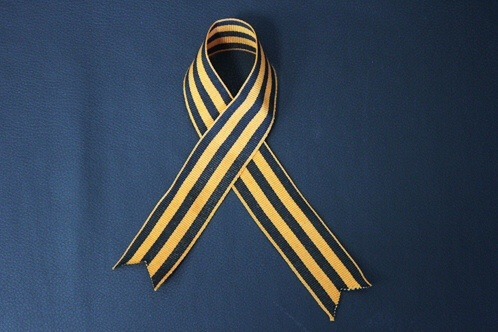 St. George Ribbon Bow
Slightly more difficult option - bow. To make a cute bow, you need to take a tape of 15-20 centimeters long, divide it visually into three equal parts, and in places of the intended divisions bend the ribbon so that its ends are crossed. After that, the product can be tied up in the middle with a string or fixed immediately with a brooch / pin on clothes.

"Tick" of St. George Ribbon
If there is no time or it is impossible to attach the tape as described above, then you can fix it in the form of an inverted "daw". The only thing that should be taken into account is that a ribbon of no more than 10 centimeters in length is suitable for this option (blanks made from longer ribbons look ridiculous). All that is needed is to visually divide the tape into two parts (preferably one part was a little longer than the second), bend it at this place at a 45-degree angle, and then attach it to the shirt / jacket.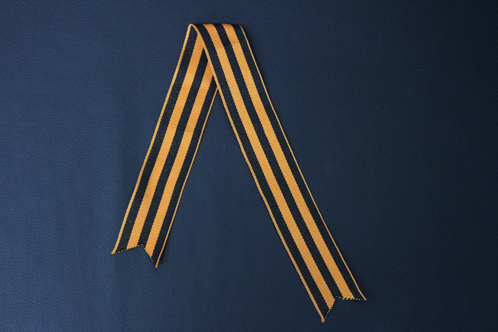 Well, in conclusion it is worth noting that the tape looked more beautiful, you can work with its ends, for example, arrange them in the form of a "triangle" or cut at a sharp angle.
Video: "Ribbon of St. George" by Igor Rasteryaev ENG subs / "Георгиевская ленточка" Растеряев на английском
Afghanistan: Kabul takes part in St. George ribbon campaign ahead of V-Day
Related news
Quarrelsome neighbors
11 детей-миллионеров, у которых стоит поучиться
Совет 2: Как сделать слепок лица
Cabbage rolls with Chinese cabbage
Как отлично провести Новый год
Tip 3: How to determine that he is in love with you
Earnings on the stock exchange: how to play and win
Which mixer to choose: on a stand or manual
Какой сироп от кашля можно ребенку 7-ми месяцев
Zodak: instructions for use