Pop up Flower card Tutorial - Handmade
Sew a card with flowers
To make such a postcard with your own hands, you will need: some multicolored paper (if you wish, also a newspaper or a piece of a geographic map, also scrapbooking paper), narrow green satin ribbon, multi-colored fabric patches, thin thick cardboard for the base, thread, glue.
Operating procedure:
1. Cut out the base of the card from the cardboard. It can be of any size, it all depends on the number of flowers that will be placed on top.
2. For each flower, cut out circles of colored paper and cloth. The size of the circles should be different to create the impression of volumetric flowers.
By the way, when creating a postcard, it is not necessary to use fabric if you have paper with different original patterns.
3. Mark a pencil arrangement of flowers on the card.
4. Glue pieces of satin ribbon, which will represent the stems of flowers, and small pieces of tape to simulate the leaves. Note that the tips of the leaves, adjacent to the stem, should be glued under the stem.
5.Glue the largest circles onto the top of the stem. Then put the rest of the circles and stitch them on the sewing machine, as shown in the photo below.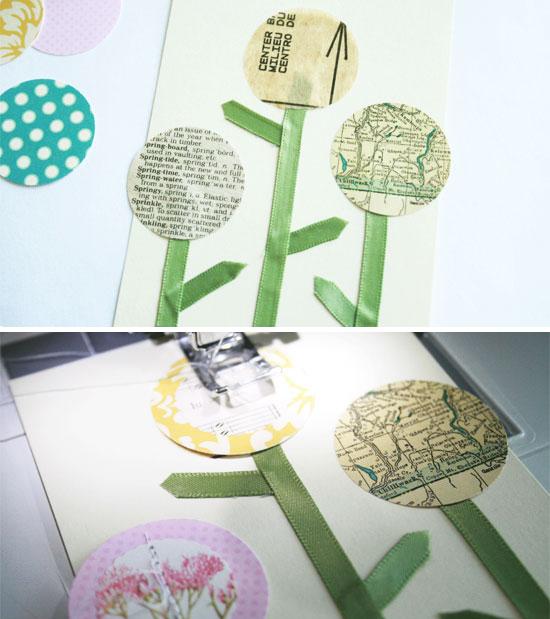 6. Slightly peel back the attached circles to create the impression of volume.
Such a card can already be signed and donated, but to make it more accurate, paste a cardboard rectangle with flowers on the basis for a card in the form of a book.
Video: Flower envelope card Tutorial by Srushti patil
♥FLORAL CARD♥ CARDMAKING TUTORIAL. How to make a Floral Card. Chipboard Scrapinec, paper Maja Design
Heart Flower Card Tutorial
Related news
Лора (виноград): описание сорта
Совет 2: Какие виды украшений существуют
Tip 3: Why do we need mathematics for primary school
Как выглядят муми-тролли
Gynoflor: instructions for use, indications, price
The photo on the passport
Took a loan on your webmoney wallet
How to retire in 2019
How to delete open pages
Pleasant aroma