How To Cook Perfect Rice Every Time
Why choose wikiHow?
When you see the green checkmark on a wikiHow article, you know that the article has received careful review. In this case, the article went through multiple rounds of research, revisions, and review by our trained team of writers and editors.
How to Cook Rice
Three Parts:
Rice is a simple, nutritious, and filling grain that can be eaten on its own, added to other dishes, served as a side, or even made into tasty desserts. There are many different ways to cook rice, and some of the most popular include boiling and steaming. One of the keys to fluffy rice that doesn't stick together is rinsing before cooking, and this is important no matter how you plan to cook the rice.
Ingredients
Stove-Top Rice
Serves 2
2 cups (470 ml) water

½ teaspoon (3 g) salt

1 tablespoon (15 ml) oil (optional)

1 cup (185 g) rice
Pressure Cooker Rice
Serves 4
2 cups (370 g) rice

3 cups (705 ml) water

1 teaspoon (6 g) salt

1 teaspoon (5 ml) oil (optional)
Steamed Rice
Serves 2
1 cup (185 g) rice

1 cup (235 ml) water
Steps
Cooking Rice on the Stove
Soak and rinse the rice before cooking.

Add the rice to a large bowl and cover it with fresh water. Soak the rice for about 30 minutes. Then, transfer the rice to a sieve to strain the water. Wash the rice under fresh running water for a minute.

Soaking and washing rice removes dirt and excess starch, so your rice will be fluffy and not sticky.

Boil the water.

Pour 2 cups (470 ml) or water into a medium saucepan. Put on a lid and bring the water to a boil over medium heat. Depending on the type of rice you're making, you may need to adjust the rice to water ratio. Per cup of rice (195 g), use the following water quantities:

Use 2 cups (470 ml) of water for long-grain white rice, medium- or short-grain brown rice, and wild rice.
Use 1¾ cups of water (411 ml) for long-grain brown rice or jasmine rice.
Use 1½ cups of water (353 ml) for medium-grain white rice or basmati rice.
Use 1¼ cups of water (294 ml) for short-grain white rice.

Simmer the rice, salt, and oil.

When the water is boiling, remove the lid from the pot. Stir in the remaining ingredients. Bring the water back to a gentle simmer over medium heat. Once the water is simmering again, put the lid on and turn the heat down to low. Continue cooking for 18 to 30 minutes, depending on the type of rice.

White rice varieties will take around 18 minutes to cook.
Brown rice varieties will need closer to 30 minutes.
Don't stir the rice or remove the lid until it's time to check for doneness.
The rice is done when it's firm but tender and not crunchy.

Let the rice rest when it's done.

When the rice is cooked, remove it from the heat. Leave the lid on and set the pot aside to rest for at least five minutes. This will help to steam the rice, give it a chance to absorb leftover moisture, and make it tender.

You can leave the rice to steam for up to 30 minutes.

Fluff with a fork before serving.

Fluffing the rice means stirring it with a spoon or rice spatula. This lets excess moisture escape and helps to make the rice plump. After stirring, let the rice sit for another two minutes before serving.Serve the rice as a side dish, add to soups, or add your favorite spices and vegetables to make a complete meal.

Store leftovers in an airtight container in the fridge for up to five days.
Preparing Pressure Cooked Rice
Soak and rinse the rice.

Pour the rice into a bowl and fill the bowl with cold water. Soak the rice for about 30 minutes. When the time is up, drain the rice in a sieve and rinse it under running water.

Rinsing will remove starch and help make the rice less sticky.

Combine the ingredients in the cooker.

Add the rice, salt, oil, and 3 cups (705 ml) of water to the pressure cooker. For a more flavorful rice, you can also add other herbs, spices, and seasonings, such as:

Chopped garlic
Minced onion
Bay leaf
Dried herbs like parsley, rosemary, and thyme
Cayenne pepper
Paprika

Cook the rice on high pressure.

For an electric pressure cooker, put on the lid, lock the lid, and set the rice to cook on high pressure. For a stovetop pressure cooker, put on and lock the lid. Bring the pressure cooker to pressure over high heat, then lower the heat to low. The cooking time will depend on the type of rice:

Cook jasmine rice for one minute
Cook short-grain, medium-grain, and long-grain white rice for three minutes
Cook basmati rice for four minutes
Cook brown rice for 22 minutes
Cook wild rice for 25 minutes

Use the natural release method.

When the cooking time has elapsed, turn off an electric pressure cooker or remove the stovetop cooker from the heat. Let the pressure drop naturally for the next 10 minutes, and don't open the release valve during this time.

This will give the rice a chance to finish steaming, and allow the pressure cooker pressure to drop to a safe level.

Relieve the remaining pressure.

After 10 minutes, open the pressure valve to release the remaining pressure from the cooker. Stand back from the cooker while the steam releases to avoid burning.

When the pressure has dropped to zero unlock and remove the lid.

Fluff and serve.

Stir the rice with a spoon, fork, or rice spatula to fluff it up and release the remaining moisture. Serve the rice as part of your favorite meal, side, or add-on to other dish.

Leftovers can be refrigerated in an airtight container for up to five days.
Steaming Rice
Wash the rice.

Combine the rice in a bowl with enough cold water to cover the rice. Let it soak for at least 30 minutes before draining and rinsing the rice under running water.

You can soak the rice for a couple hours before draining and rinsing, and this will result in rice that isn't sticky at all.

Combine the rice and water.

You can steam rice in either a rice cooker or an electric steamer. A rice cooker is specifically for rice, whereas an electric steamer is for vegetables and other foods as well. Both come with a basket for rice. Stir together the rice and water in the basket.

When steaming rice, always use equal parts rice and water. To make rice to serve more people, simply increase the quantities of both equally.

Add water to the basin of an electric steamer.

When using an electric steamer to make rice, you also have to add extra water to the basin below the steamer basket. This is necessary to create the steam that will cook the rice.

For smaller quantities of rice, add water to the minimum fill line. For larger quantities, add water to the maximum fill line.
You don't have to add extra water to a rice cooker.

Steam the rice.Put the lid on. Select the rice variety on a rice steamer. With both a rice cooker and electric steamer, set the cooking time to 30 to 40 minutes and cook the rice. White rice varieties will only need about 30 minutes. Brown and wild rice varieties will need closer to 40 minutes.

Fluff with a fork and then serve.When the rice is tender and cooked, open the lid and remove the basket from the steamer. Stir the rice with a spoon, fork, or rice spatula and serve.
Community Q&A
Question

How can I cook rice to make sure the cooked grains do not stick together?

wikiHow Contributor

Community Answer

Rinse the cooked rice with hot water to remove the starch that makes it sticky.

Question

Is there a way to sift out burned grains?

wikiHow Contributor

Community Answer

The only option for sifting burned grains is the hard way (piece by piece). Toast more gently and pay close attention to avoid burning altogether.

Question

Which rice is best for me?

Jasmine and basmati are long-grain varieties that have been cultivated to bring out distinctive flavor profiles. They often turn up in Indian and Asian food. Brown rice—which is also available in long and short grains—is a lot chewier and heartier than white rice, and it takes about twice as long to cook. If your interest is in nutrition, then brown or wild rice is probably your best bet.

Question

How do I prepare coconut rice?

Rinse and drain rice in cold water. Place in a saucepan with water, coconut milk and salt. Place the pot over high heat and bring the liquid to a boil. Stir and reduce the heat to the lowest possible setting, and cover the pot tightly with the lid.

Question

How much rice should I use?

wikiHow Contributor

Community Answer

It depends on how much rice you want. There are measurements and serving sizes in the article.

Question

Should I add warm or cold water?

wikiHow Contributor

Community Answer

Use cold water and heat it when you start the cooking process.

Question

How long can I keep rice in the freezer?

wikiHow Contributor

Community Answer

If properly sealed, frozen rice will stay good for about 6 months.
Ask a Question
200 characters left
Include your email address to get a message when this question is answered.
Short Video: How to Cook Rice
To cook rice on the stove, first soak it for 30 minutes, then strain. Boil your water, using a 2:1 ratio of water to rice, then add the rice and sprinkle in some salt and oil. Let simmer for 18 minutes for white rice and 30 minutes for brown. Remove it, then let it steam for up to 30 minutes before eating. To make rice in a pressure cooker, combine the water and rice in a 3:1 ratio, then cook on high pressure for 1-3 minutes for white rice and 22-25 minutes for brown or wild rice. Remove the cooker and let it sit for 10 minutes, then open the pressure valve and enjoy!
Made Recently
Awesome picture! Tell us more about it?
Article Info
Categories: |
In other languages:
Français: , Español: , Deutsch: , Português: , Italiano: , Nederlands: , Русский: , 中文: , العربية:
Thanks to all authors for creating a page that has been read 1,006,675 times.
Video: How To Cook The Perfect Rice - Gordon Ramsay
The Best Ways to Cook Rice images
2019 year - The Best Ways to Cook Rice pictures
The Best Ways to Cook Rice recommend photo
The Best Ways to Cook Rice picture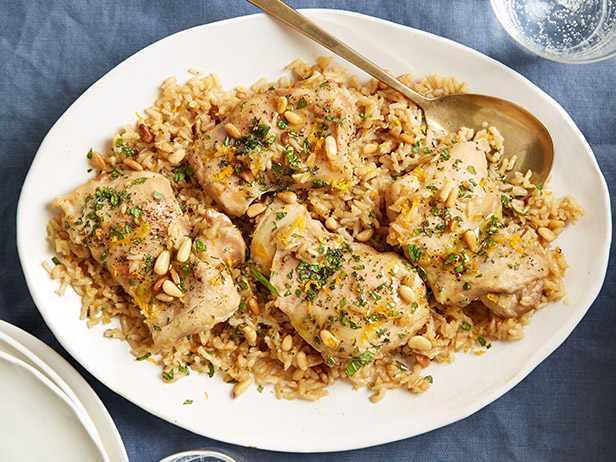 The Best Ways to Cook Rice new photo
pics The Best Ways to Cook Rice
Watch The Best Ways to Cook Rice video
Communication on this topic: The Best Ways to Cook Rice, the-best-ways-to-cook-rice/ , the-best-ways-to-cook-rice/
Related News
The luxury liner that will make you want to book a cruise
While there has been speculation that Pence is establishing a sort of shadow presidency of his own, the vice president has slammed any indication that hes planning to take over from Trump. Pence has called the president a man with broad shoulders and a big heart
10 Uncommon Tattoo Ideas with Pointillism Technique
Celebrity Guide: Different Ways To Flaunt Red Lipstick
Isoniazid-Rifampin Reviews
Anna Sui FallWinter 2015-2019 Collection – New York Fashion Week
Spirituality and Cancer Treatment
Success In Reaching Goals Is Determined By Mindset
Best Underwear for Potty Training a Baby
How to Have a Sustainable Garden in Saudi Arabia
Date: 30.11.2018, 12:04 / Views: 63273
---